YOUR STORY + STYLE = DESIGN

YOUR STORY + STYLE = DESIGN
We believe good design matters. It inspires, entertains, organizes and moves, people, places and things.
Learn a little about us before strolling through our portfolio.
What is our why? Why are we in the visual communications business? First and foremost, I love the mental and creative challenges of creating visual art. If I can develop a concept that really speaks to others, it's a great feeling. But close behind that is the fact that I really like entrepreneurs and the stories that sit behind the strengths of their businesses. Many of my clients I've known for a number of years. I've watched their businesses grow and at times falter. It's a journey we all share and I like helping them. When I get involved with many aspects of their brand - print, social media, environmental graphics, interior design, even table settings and desserts for a luncheon- it brings everything together in a way that shows care, trust and clarity. It's defining.
CONSULTING - BRAND MANAGEMENT
GRAPHIC DESIGN | PRINT MANAGEMENT
We're an eclectic team of young and less-young; but we are both artistic
and conceptually creative. As a team we come up with better and fresher ideas.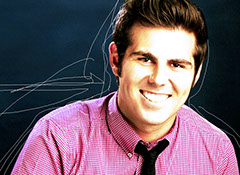 My father owned an ad agency back East in the 50's and beyond. Yes, very Mad Men-ish. I always knew I wanted to design commercially and have been doing this my entire career.
Ryan's background in sales leads us to new design and marketing strategies. Being part of the Millennial Generation helps our firm have a better understanding of social media and trends.
© 2016 TC TWO CREATIVE STUDIOS All rights reserved.
<